QTBIPOC Showcase Intensive
Each year ArtStarts supports over 100 performing artists to work in schools and engage with 500,000 young people across the province. We host an annual Showcase, which is a two-day event that connects artists with school and community programmers interested in booking arts experiences for young audiences. We support artists who are part of our Artists on Tour Directory with booking, touring and invoicing services to facilitate the process of arts-based learning for young people. These artists bring performances and workshops to schools to inspire young people to learn about the world and themselves through the arts.
We are more committed than ever to work towards making sure young people see themselves represented in arts programming at school. We understand that increasing representation of QTBIPOC artists (Queer, Trans, Two-Spirit, and/or LGBT2QIA people who are also Black, Indigenous, and /or people of colour) in schools is an integral part of this commitment.
QTBIPOC Showcase Intensive
This initiative is focused on supporting QTBIPOC artists to apply to Showcase and join the Artists on Tour Directory to perform on stages in front of young people. The intensive will take place from August 10 - 11, 2019 and will be a low-risk, supportive incubator in which QTBIPOC artists can build community, hone transferable skills, and freely dream about the development of their careers. We believe that the QTBIPOC Showcase Intensive is an important step toward creating a more accessible space for QTBIPOC performing artists at ArtStarts in Schools.
During the intensive, QTBIPOC artists will:
Receive guided application support directly from the Showcase and Booking & Touring Manager, Pavan Thind

Develop requests and templates for letters of reference from peers

Receive high-quality, digital professional headshots (a necessary part of most application processes) from Photos by K.Ho

Develop a short, clear, professional statement describing their performance work

Meet with QTBIPOC performing artist mentors for support

Learn strategies for sustainable tour planning across the province, coping with working with large groups of students, and communicating with educators
This initiative is supported by the City of Vancouver through a Creative City Strategy grant.

Why QTBIPOC?
QTBIPOC artists face intersectional barriers to our Showcase application process, like challenges in finding reference letters, taking time off work for professional development, and expensive application fees. This year, out of 20 Showcase performers, while 10 were groups of primarily BIPOC or individual BIPOC artists of colour, only one artist spoke to their identity as a QTBIPOC performer in schools. ArtStarts is committed not only to significantly reducing barriers facing QTBIPOC artists, but to significantly increasing the representation of QTBIPOC artists in performance settings across the province.
Many academic and professional development opportunities in the art world remain inaccessible to QTBIPOC artists, which leaves them without the mentorship needed to secure reference letters, develop CVs, and craft clear and effective descriptions of their work. Additionally, QTBIPOC artists already face precarious employment outside of the arts. By providing the Showcase Intensive as a two-day weekend program, and honing in on business and application skills, we aim to make it possible for artists to participate in an immersive professional development program without taking considerable time off work.

Finally, the development of application materials for professional arts opportunities is time-consuming; combined with often expensive one-time fees, many QTBIPOC artists simply cannot afford to take the risk of devoting considerable unpaid labour and non-refundable cost to an opportunity for which their work may be rejected. By offering the Showcase Intensive at no cost to QTBIPOC artists and waiving subsequent fees (our $75 application fee, $300 Artists Services fee, and criminal record check fee) for artists who complete the Intensive and go on to apply to Showcase, we are reducing the barriers associated with our application process and accessing the school market.

Who Can Apply?
In order to apply for the Showcase Intensive, artists must meet the following eligibility criteria that also qualifies them for Showcase applications:


Artists must identify as QTBIPOC (Queer, Trans, Two-Spirit, and/or LGBT2QIA people who are also Black, Indigenous, and /or people of colour)

Artists must be interested in developing and touring a performing or workshop for young people through K-12 schools across the province

Artists must anticipate to the best of their ability being available for Showcase dates in Spring

2020, and being able to meet an October 2019 deadline for the Showcase application

Artists must anticipate being available to tour BC schools for at least 3 weeks (including performances/workshops outside the Lower Mainland) between September 2020 and June 2021

Artists must be interested in performing for an average school audience of 300-1000 students. (You may choose your own audience capacity and preferred grade level within this range)

Artists must be willing to undergo a Criminal Record Check process*

Artists must be residents of Canada*
*We understand that Canadian residency requirements and criminal record checks disproportionately impact the ability of QTBIPOC artists to seek meaningful work and regret that we are unable to waive these two requirements of the program.
Applications are open until Monday, July 22, 2019. Participants will be notified by July 30, 2019.
Facilitators and Mentors



Leah Horlick grew up as a settler on Treaty Six Cree territory and the homelands of the Métis people in Saskatchewan. A professional artist and queer woman of mixed race, Leah holds an MFA in Creative Writing from UBC and co-curated REVERB, Vancouver's only anti-oppressive reading series for LGBTQ artists from 2012-2017. As a Program Manager at ArtStarts, she is responsible for Gallery exhibitions and professional development for teachers & artists.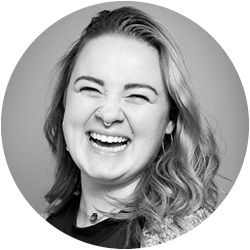 Hannah Jarvis grew up on the ancestral and stolen lands of the Sḵwx̱wú7mesh (Squamish) people as queer, white settler. They recently completed their bachelors at SFU in Gender, Sexuality and Women's Studies with a Sociology Minor and is now living on the stolen homelands of the xʷməθkʷəy̓əm (Musqueam), Sḵwx̱wú7mesh (Squamish), and səl̓ilwətaɁɬ (Tsleil-Waututh) peoples while working for ArtStarts in Schools. They have worked for anti-violence orgs in Vancouver and are keenly interested in the ways in which the arts can be used as a tool for resistance. As the Booking and Touring Program Coordinator they schedule the artist tours into schools across BC as well as the invoicing process for our touring artists.

Pavan Thind is a second generation South Asian Canadian, born and raised on unceded territories belonging to the S'ólh Téméxw, Katzie, Kwantlen, W̱SÁNEĆ and sc̓əwaθenaɁɬ təməxʷ (Tsawwassen) peoples. After graduating with a BA in Communications, Pavan found her way into the nonprofit sector where she worked directly with young people wanting to make a difference in their communities. She is humbled to be a part of an organization that recognizes the importance of creativity and equitable access for both artists and young people. As Program Manager for Booking and Touring, Pavan has supported and connected hundreds of artists with schools and young audiences across BC; she supports artists in our Artists on Tour Directory while managing our annual ArtStarts Showcase and Artists in Education grants for school districts.

Jonathan Zolina, better known by his stage name as Jojo Dancer is a Filipino/Canadian Artistic Director, Choreographer, Performer, Event Producer, and Actor. Jojo is recognized for continually trail-blazing a style and standard that has filtered itself into today's mainstream dance world.
With unstoppable artistry, Jojo has continued to reinvent a technique that has quickly become coveted by several artists, including, Madonna, Nelly Furtado, Michael Buble, and La Roux.

Diana Hellson was born January 11, 1992 in Calgary, Alberta. Starting as young as three years old, Diana has been naturally drawn to the stage and has spent her lifetime performing through Dance, Theatre and Music. In 2012, Diana was given the name "Mamarudegyal MTHC" by her Calgary KRUMP family Empirical Freedom and began her journey as a Solo Hip Hop and R&B Artist soon after. Moving to Vancouver, BC in 2014, Diana AKA Mamarudegyal MTHC quickly became a mainstay on the Underground Hip Hop Scene. Joining forces with Coast Salish duo "Status Krew" in 2015, Diana started Indigenous Hip Hop and Multimedia group Rudegang Entertainment. Releasing her debut EP "MRG EP" in 2016, and taking home two Fraser Valley Music Awards (Best Hip Hop - Female, Queer Excellence in Music) in 2017, Mamarudegyal MTHC has made quite a name for herself and has the BC Hip Hop scene waiting impatiently for her follow up album, currently in progress.

Nancy Lee is a Taiwanese-Canadian interdisciplinary media artist, cultural producer, curator and filmmaker. She recently co-created VR projects Telepresence, a VR 8-channel surround sound live performance with Western Front Society and Tidal Traces, a VR dance film with the National Film Board of Canada. Nancy has showcased at Cannes Film Festival, SXSW, MUTEK, Vancouver International Jazz Festival, and International Symposium on Electronic Art to name a few. She is a co-producer and co-founder of CURRENT: Feminist Electronic Art Symposium, a multidisciplinary and intersectional music and electronic art symposium working with women and non-binary artists. Nancy is a 2018 YWCA Women of Distinction Nominee for Art, Cultural & Design and is named one of BC's Most Influential Women in STEM for 2018. She currently sits on the board of directors at VIVO Media Arts Centre.
Photography provided by K. Ho