Creative Spark Columbia Basin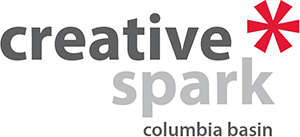 Small projects can have a big impact. Artists across all disciplines living and working in the Columbia Basin region who have an interest in working with young people in an arts-based capacity are invited to apply for Creative Spark Columbia Basin grants.
Creative Spark Columbia Basin grants support artists to engage young people in schools and communities in arts-based projects. If you relate to any of the statements below, then this grant is designed for you:
I'm an emerging artist looking to explore career opportunities
I'm a professional artist interested in working with young people and need support to get started
I have a project idea but don't have the funds to cover the required materials and supplies
I am interested in applying for an Artists in the Classroom (AIC) grant in the future and need to build some experience first
Who Can Apply?
Artists living and working in BC's Columbia Basin region are eligible to apply for this grant. (See detailed map.)

Grant Amount
Creative Spark Columbia Basin grants offer 100% coverage for projects up to $2,000.
Goals of this Grant
Before you apply, please make sure your project fulfills one or more of these goals:
Build your capacity and confidence as an artist working with young people and using arts-based learning
Provide young people with opportunities to engage actively in the arts, and promote an appreciation of the arts
Foster connections between young people, artists, arts organizations and schools
How to Apply
Applications are accepted on a rolling intake until August 1, 2019. Start by reading our Grant Application Guidelines and then complete the online Application Form.
**We have been experiencing issues with our email correspondence going to spam. We are working to resolve this issue as quickly as possible. If you are expecting an email from ArtStarts, please check your spam folder or add us to your address book to keep our emails going to your inbox. Thank you for your patience and support.**
448
young people were given opportunities to engage actively in the arts from Oct 2017 to Aug 2018
August 1, 2019
Final Deadline to Apply
Apply Now
Grant Application Guidelines
Online Application Form
Final Report for Funded Projects
Get in Touch

Emily Beam
Director of Programs
[email protected]
604-336-0626 ext 110